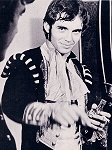 Swedish popgroup from Sollentuna, formed in 1962 by;
Ola Håkansson (vocals), Christer Idering (guitar) - replaced by
Claes "Clabbe" af Geijerstam, Johannes Olsson (organ),
Åke Eldsäter (bass) and Leif Johansson (drums).
Clabbe was a very successful songwriter/composer for the band.
In May 1969 Ola & Janglers got the first swedish entry ever
on American Billboard top 100, with the song "Let's Dance".